The Information Technology (IT) and utility industries are constantly changing. Regulatory adjustments, customer demands, depreciation and the introduction of new technology stacks creates uncertainty and can be difficult to navigate.
In this ever-changing social and economic landscape, flexibility and agility are more valuable than ever. In fact, they are key to a company's success. Enterprises will ultimately set the foundation of their digital journey with the next investment they make. But shrinking company budgets and increased customer expectations can make it more difficult for them to make the right decision. This means the wrong investment can result in lost money and time that companies can never get back.
Here's where we can help – invest in our Digital Experience Platform (DXP), MiCustomer and let your business thrive with these benefits.
You don't have to go big or go home – make smart investments instead.
1. Never start from scratch
We foster flexibility in every capability. Our reusable components are embedded into the core of our platform architecture to simplify the building process. Customize any of our 250+ capabilities to target every pain point as efficiently and seamlessly as possible. Changes can be made almost instantaneously using templated design and configurable core components. This results in instant scalability across clients, which can be delivered in heavily abbreviated time frames compared to traditional platforms. You can also streamline your organization either on-premise or in a cloud-based environment – the choice is entirely yours.
Not only are our applications easy to deploy and extend, but they're also easy to change.
2. Everything serves a purpose
Whether the implementation is miniscule or full-blown, we're fully committed to simplifying and optimizing your digital journey. Our MiCustomer platform can be bought as a whole or as individual modules depending on your business needs. Its specialty in multifunctionality means that it'll never miss its intended target. It can either streamline your entire business landscape, or resolve weaknesses within a specific department. Looking for smaller scale solutions? You can also select from a range of microservice features right at your fingertips.
3. Seamless integration, even with legacy systems
They say age is just a number, and we put that saying truly to the test. Our digital customer experience platform is easily integratable with your existing systems, no matter how old or new they are. 
Extending IT systems is a cost-effective alternative to full system replacement. It allows organizations to avoid significant change management initiatives for retraining. The entire implementation process can be done in a matter of 8-12 weeks or less with little to no disruptions. With the power of low-code, the building process becomes 10x faster than traditional coding.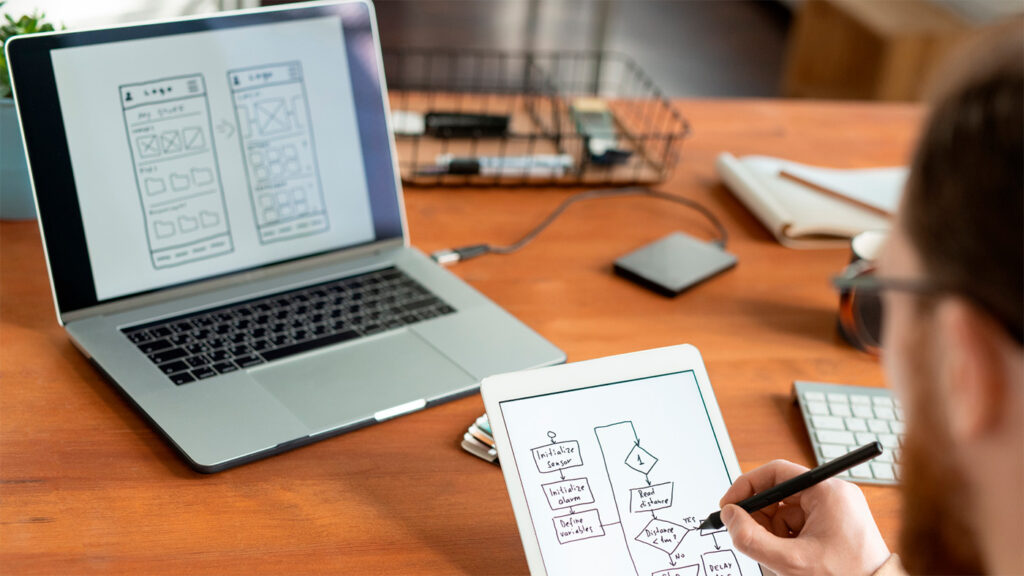 4. We won't limit you to a box
We take pride in empowering our clients by making them our co-innovation partners that build up to the same digital vision. 
By providing enterprises with an open-source code for all our products, changes can be independently made instantly through Mendix. This  maximumizes efficiency, optimization, and customization.
5. Efficiency without sacrificing quality
Leave the waterfall methodology in the past. In the pursuit of fostering and creating a culture of continuous improvement and proactivity, we apply our Lean and Disciplined Agile principles and methodology across the company to ensure the highest quality of services. Expect a reduction in errors, accelerated time to market, and efficiency, all while leaving no waste behind – you're in for a fun ride. 
6. Guaranteed return on investment
Say hello to the smartest investment yet. With the power of choice, you can select from different financial models: Opex or Capex to enjoy flexible payment plans depending on your preference. All of our solutions are carefully designed and priced to pay for themselves, but you'll have to see it to believe it.
Put your trust in the right hands and innovate with experts. Our employees have a decade's worth of experience in various industries to enhance customer and employee experiences with the power of MiCustomer. With a portfolio of many prestigious awards, including Utility of the Year, J.D. Power Award for Customer Satisfaction, Innovation in Digital Customer Engagement, and Innovation in People and Processes, Avertra continues to expand exponentially, but its mission remains clear and constant: to simplify life one digital journey at a time.
We're here to give you a helping hand, but how far it extends is entirely your choice. Personalize your journey one step further when you customize the level of support you need, and plan your roadmap in advance through an enabled, collaborative, or managed digital transformation journey. Can't decide on one? Move freely from one delivery model to another as the level of support you need changes. We're here to make it worth your while.