Tune into this webinar discussion with Mike Tarentino, Director of Digital Transformation at Mendix,  Mohammed Kaka, Chief Operating Officer at Al-Baraka, and Hamzah Asmall, Digitalization and Software Development Manager to explore the realms of Al-Baraka's digital transformation journey with low-code, and how Mendix partner, Avertra brought their digital vision to life. Some of the key takeaways from this discussion include Al-Baraka's story, goals, faced challenges and lessons learned throughout their journey. The team will also discuss the impressive capabilities of their application, along with its impact, the strategy around their upcoming application, and the overall value of low-code.

Mohammed Kaka: In 2018, we were invited to a group digitization initiative and a kickoff for the group itself, and a vision was set: being able to provide a delightful customer experience, a full range of end to end digital Islamic finance products, best in class mobile banking, and a personalized and consistent omnichannel. Although we were small subsequently, we needed to be able to meet these big demands that were being set up. We needed to find a solution that is going to be able to give us the ability to meet these big aspirations without busting the bank in regards to our budget, or compromising or forcing us into a whole lot of new recruits, and changing the core structure of our organization.
Hamzah Asmall: We looked at the biggest gap that we had: the sphere of mobile connectivity. The customer's expectation was to be able to bankify mobile, and we didn't have a play in that space so that was a no-brainer. It was significant enough of a challenge to take on, but not overwhelmingly big that we got pessimistic. We said: "Let's eat this elephant. Let's stand up for the mobile channel and build our transformation from there".
Mohammed Kaka: What we had as an organization were two separate core banking systems. We've got a vast array of backends and we needed to ensure that whatever we were looking for was a solution that would be able to provide a customer a single view, irrespective of the disparate back ends or multiple back ends that we had.
Entering into digital transformation, you are constantly bombarded by vendors that are looking to provide you with a solution. It was difficult to be able to navigate through the noise in terms of identifying a solution that was fit for purpose rather than something that was just being sold to you and made to look glamorous.
Hamzah Asmall: Being a small business, we don't have the luxury of many business people that we can lean on to guide digital transformation initiatives and spend a lot of time in providing requirements in detail. We were looking for a platform that was going to bring about a common language and understanding, and a way of working that was going to change the way business works together. You are transforming the people and mindset in an organization as much as you're launching new products and services. We were also worried about key dependency, technology, and vendor risks being held to ransom and being locked up in some technology staff that would be hard to find different vendor pools or developers for.
Hamzah Asmall: First off, out of the box of Mendix's modeling of coding methodology, tools, and approach that solves the problem of bringing business and IT closer together. It's easier to solve a problem when you can throw together a couple of user interface elements and model code in the form of a flow chart. It's easy for people to grasp onto what you're trying to say and clarify those business requirements and needs, and bring business and IT onto the same page literally in terms of understanding.
The second is obviously the speed to develop, prototype, and release. With low code, because you've got pre-bot widgets and a library of components to use quickly, and with its click, add, and drop coding interface, the development team would move at speed to build out new features, with quick releases, especially before we were in full on production, giving that over to the business users. Then, the in bulk feedback capability widget allowed business users to precisely pinpoint to a pixel where the issue or problem was, that shortened the lines of communication. It made that feedback cycle much faster and it allowed us to iterate even before we went live through many different versions. We hit over 200 bottlenecks in a very short space of time while we kept on giving to the business, getting feedback, and improving. Speed to release speaks.
The third major factor was around the Mendix ecosystem. Because of Mendix Cloud, that allowed us to quickly avoid the big infrastructure footprint that a more traditional pro code solution might have. Bringing Mendix into the organization when we had a discussion around the impact and IT operations, it was a five-minute discussion because we didn't need any IT operational headcount to be able to support the solution. Running it in Mendix public cloud out of the box, just took that entire discussion over the lining from IT operations and a cost perspective.
The fourth is the Mendix partner ecosystem. It's comforting to look through the ecosystem and see that it's widely supported. Geographically, you've got an array of options that you can choose from, you are not going to be locked into any specific vendor.
Firstly was the Mendix Academy. When I was looking at different solutions, the big question to me was: "If I want to grow my own team, how easy is it going to be? What educational resources are there?" The Mendix Academy, whether it's full-fledged developer tracks taking you all the way from rapid to export, put my mind at ease that I can maintain that team, get a talent pipeline going, and manage the risk of attrition. That's always going to be there in any development or digitalization space and I can see people grow their careers and keep moving forward.
Mohammed Kaka: When we spoke about the vision, we said that the vision was to provide a delightful customer experience, and what we found was that the app fitted into that vision based squarely in terms of what we wanted to achieve. We also set ourselves digital strategic aspirations. One of the aspirations that we set was for a digital adoption of approximately 70%. Now, this app was there to bridge an existing customer connectivity challenge that we had. We had a set of customers that were using an old internet banking solution that needed to move from internet banking to mobile banking, and over a period of time, we had granted approximately 4,000 users on this internet banking system. Within the first month of launching our mobile banking application, we were able to migrate 50% of those customers from internet banking into mobile.
As we stand today, around six months down the line, we've got a 4,000 registered user base on this that may include some new customers that have come in, but it's given us almost a 100% percent adoption in terms of what we've tried to achieve. The big issue for us was being able to provide what the customer wanted in the format that they wanted, but more importantly, as you brought this project into fruition from the first day right through to the first week and weeks thereafter, the flexibility of Mendix allowed us to ship out our app and then reshape it.
It's almost like when you get that box of Lego the first time, you believe it's in the picture, but then you hear the flexibility of changing it around, putting it, and making it unique. That's what the local platform gave to us, and this mobile banking application gave to us. We were quickly able to take the message that we were putting out to clients on our normal website, not our internet banking, but your normal marketing website and incorporate that into the app. You gave your customer a consistent message in terms of what you were putting outdated into the market, and that has allowed us to use the mobile application to connect better with our clients and obviously through the Mendix platform. It's given us a flexibility of reshaping, as we needed items to be reshaped to meet the customer demand or an area which we may have thought about, but subsequently realized that we needed to change, and that was the flexibility that we had.
Hamzah Asmall: Anybody in the software development space would know that changes come with risk. When you have a business user that wants to keep changing things, one of the biggest worries you are always going to have is regression and sleepless nights when trying to fix production issues that are disrupting the latest change, and that's one of the places where the power of Mendix's modeling came to the fore because each time you want to make a change, it's the model that lets what all the impact of this change that you're making are. Immediately, it's telling them, developed in real time, what mistake is being made, what needs to be fixed, and then also the AI assistance to help guide the developers. Praise each of the almighty, we haven't had a serious production regression issue come about in our rapidly that we've had so far.
From a technical side, the technical impact of building on Mendix was apparent. We have run building on from that point. The fact that Mendix uses React Native allowed us to build ones and deploy to both iOS and Android with minimal effort. It also cut down on the testing and sign off efforts on our side because we didn't need to sign off an iOS build and an Android build. We've been able to place confidence in this build once and deploy to board platforms easily. That's cut down on the regression and new feature testing on our side.
What was also a very big gain for us is the ability to integrate custom widgets and extend the platform as we needed. A big reason why we were able to quickly drive customer adoption, even though we were a small branch footprint, is because of the fact that we were able to integrate AI enabled identity verification into the app. Then, that allowed our customers in the remote parts of the country, or even a little bit distantly from us to download the app and go through a secure onboarding and verification process without having to come into a branch or get a consultant out to see them. That technical flexibility and extensibility showed and helped us achieve that. Building on that is the availability of the Mendix marketplace, where we found already available extensions from other Mendix users, sometimes free, sometimes paid. That helped quicken our development significantly when we brought those in.
The last major technical impact is the ability to have non-mobile developers develop for mobile. That comes down to the fact that in Mendix, whether you're developing for mobile or for web, that developer experience is similar and consistent between the two. We had just one mobile specialist supported by four non-mobile developers. Quickly, those four non-mobile developments were productive and able to push up both. From a technical perspective in terms of mobile development, we saw a lot of productive key efficiency come through.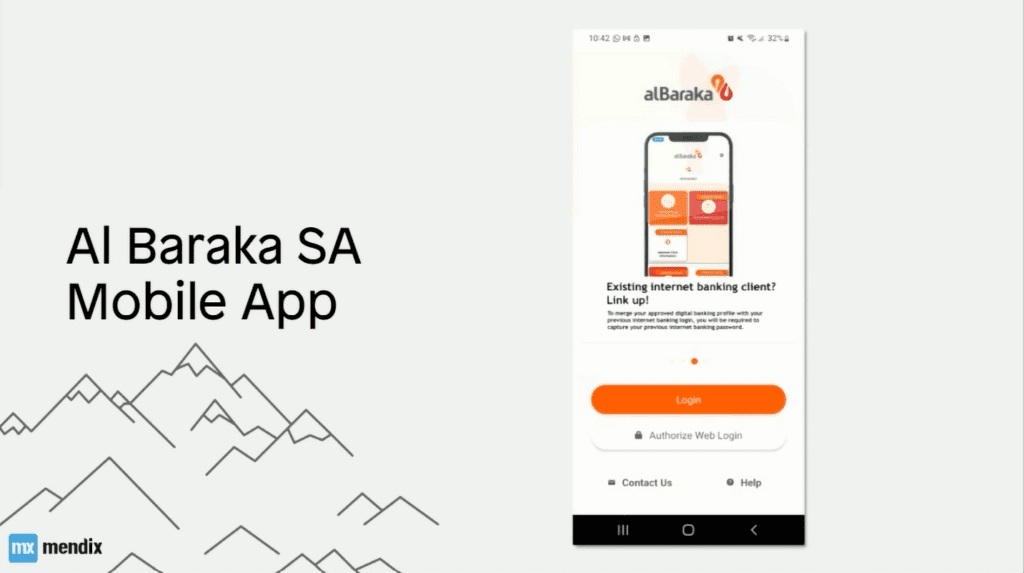 Mohammed Kaka: Our vision extended to a full range of end to end digital Islamic finance products. It also talks about enhancing the productivity of our employees. When we look at it and have the mobile banking application in the bag project seal, we look at what's next. One of the areas that we looked at, which was core to our business, was being able to source new business, create a lead generation, give a client an easy experience in terms of raising their residential mortgage, or financing the motor vehicle.
We looked at the Mendix platform, we reached out to a local implementation partner, and quickly what was meant to be a lead generation tool evolved. It evolved to a customer connectivity item, giving us a lead generation, but it also started moving towards an automation process – things that were manually done. We saw benefit and opportunity in terms of automating it. We brought in a little bit of workflow into workflow management and we're even able to bring in decisioning. A small project morphed into a big project and even with it being a large size project.
The capabilities of low code, whatever we developed on the motor vehicle side, was being able to be reused onto the mortgage side. You saw the benefit of being fast through low code and then the true benefit of low code came across when the final product was delivered.
When you work with a business team, it's easy to let your demanders grow fast, but it's also difficult for people to have an idea of what the end product is going to be. We found that when we had built this system, the guys that it was built for initially in the sales team and lead generation were blown away with it. It met all the requirements, even exceeded some of the requirements. We've achieved the aspirations that we wanted to from that, and it's been because of the capability of being able to reshape and not be stuck in a box in what the decisions that you make from the beginning.
Hamzah Asmall: If I had to look at it introspectively; what we realized from adopting no code, number one, we realized speed. I've said it before, but I can't emphasize it enough. If we had to try and deliver these two apps using pro code or traditional approaches, It would've taken us a lot longer based on my experience of development over the years.
The next thing I've noticed through the process is how with low code, you actually are avoiding key dependency risk. I've seen that in how we now have had on the mobile app, four different lead developers taking charge of the project in a short phase of time. Each one of those developers came on and were able to ramp up pretty quickly in a week – delivering features within a day, but really take custodianship off the app within a week and feel comfortable about the entire code base. I don't stress that we are just stuck with one developer, and if that developer leaves, we get stuck in common forward.
What also comes through because of low code is that it resolves many security and compliance issues out of the box. Mendix says, work hard to get security certifications and make sure that the platform is secure and that users of the platform are protected. That's protected us from creating vulnerabilities in a way. Then Mendix Cloud itself comes with a lot of security protection. I do remember that when the Log4j vulnerability hit globally for us, it was comforting to quickly receive feedback from Mendix to say: "We've scanned your app. We've found no instances of Log4j anyway in your app. Your app is good to go". And you know what? Pro code just didn't have that.
Being low-code, being on Mendix most importantly for me, gave me the ability to build confidence within an organization of its digitalization capability, and that comes on the back of being able to show tangible work outputs that people can use and talk to. Very often with pro code, you're waiting for somebody to fill the database first and during that time, you find stakeholder confidence will lag, or you're building some middleware that nobody can see, touch, or know about. But with pro code, because you're building slices off the stack and delivering these increments as you go, you keep people engaged, you build confidence and momentum. It then becomes a lot easier to have bigger and more ambitious and daring, innovative ideas get broached around the table because of the organizational sense of self belief it has.
Mohammed Kaka: When we started this journey with Mendix, one of the Mendix staff spoke to us and they asked us, "What's your evidence that you're going to be climbing or summiting?" We said, "We have these nine aspirations that we want to achieve". Having developed the app and although we call it a single app, it actually is at least four different items. There's a fifth item that's still being developed. There's a sixth item. We've got the loan origination portal that has already been developed. Our nine evidence that we intended summiting has now evolved to 31 digital initiatives that we are busy working towards. The only thing that holds us back is what our mind limits us with in terms of the tools. We've got capabilities to use more in terms of automation. We are looking at using Mendix more in terms of our decisioning and improving our workflows.
Hamzah Asmall: All digitizing organizations out there today understand the value of being able to have a platform play in the market because it's not only about connecting with your customers, it's also about helping your customers connect with each other, building a community, allowing people to realize value from those relationships. We look at many past experiences as the platform of a super app that we like to work on. We hold a niche position within our community and people have strong brand resonance. We would like to take that a step further and play a bigger role than just being the financial services provider. We would like to become a digital hub for communities and help them to connect with each other and us, and find new ways of creating and sharing value.
Hamzah Asmall: The first lesson learned for me was around vendor selection. With Mendix, there's a large array of vendors that you can choose from, but you do have to choose, right? You can't just expect that every vendor out there is going to be fit for you because each vendor still has its own culture and own way of working. As a Mendix customer, if you are going to partner with a vendor, you should still do your own test to check if there's a fit between you and that vendor because it is going to be a meaningful relationship, possibly a long love relationship, and you don't want to have a difficult relationship to start with, one that would just put a damper on your journey.
Mohammed Kaka: When we started off this digital transformation journey, there were many times that as an executive, I said with my fellow executives, and we looked at it and said: "What do we need?" We need connectivity. This connectivity, you can purchase it as software as a service. Why go down this entire route of a new low code platform and learn something new and do all of that? Why don't we just go and buy what works and put it in? But having gone through the journey with Mendix and the local code application and in the way that you are able to reshape and reimagine your entire business, it changes the way you think about this. If you are looking at transforming, then make a selection of a vendor, make a selection of a language type or a programming type that will allow for transformation. And that is what Mendix has done for our business. It moves you from just trying to solve a solution to actually thinking differently and finding a new way of achieving your goals that you may have. You have front end customers utilizing it, you've got backend support utilizing it, you've got connectivity into on-premise core banking systems, you've got connectivity into services provided by third parties.
Before we go, I would like to thank our partners that carried us and got us to this point where we've been able to tell a successful story. I just want to say thank you to Avertra and STS, both of you have been great. Bashir Bseirani, CEO of Avertra Corp. and Sadiyya Nosarka, Group CIO at STS Holdings, we've enjoyed partnering with you guys, and to Mendix for connecting us with such great partners. Thank you so much.

With numerous successful partnerships within the industry over the last decade, Avertra brings together the expertise and drive to empower clients with state-of-the-art digital solutions with Al-Baraka being no exception. With a continuous roadmap of digital solutions set in stone, Avertra aims to continue nurturing its fruitful partnership with Al-Baraka, all while providing the latest digital trends and solutions to provide superior customer experiences.